A Mid-Fi Tale:
Improving Walden Pond Books' eCommerce
Founded in 1973, Walden Pond Books is one of the largest independent bookstores in Oakland and a staple in the community. "The highest priority will always be given
to the face-to-face contact we have with our customers. A year ago, we saw an opportunity to support the local community and keep our business going through COVID by allowing people to order some products online. We built our own website but we're not pleased with the results. We have plenty o
f website visitors yet few completed purchases.
Through an improved eCommerce website, we want to showcase our products while maintaining our brand image: "small shop" appeal and great customer service."
Solution
Updated eCommerce store to better showcase and organize their products while maintaining local business vibe.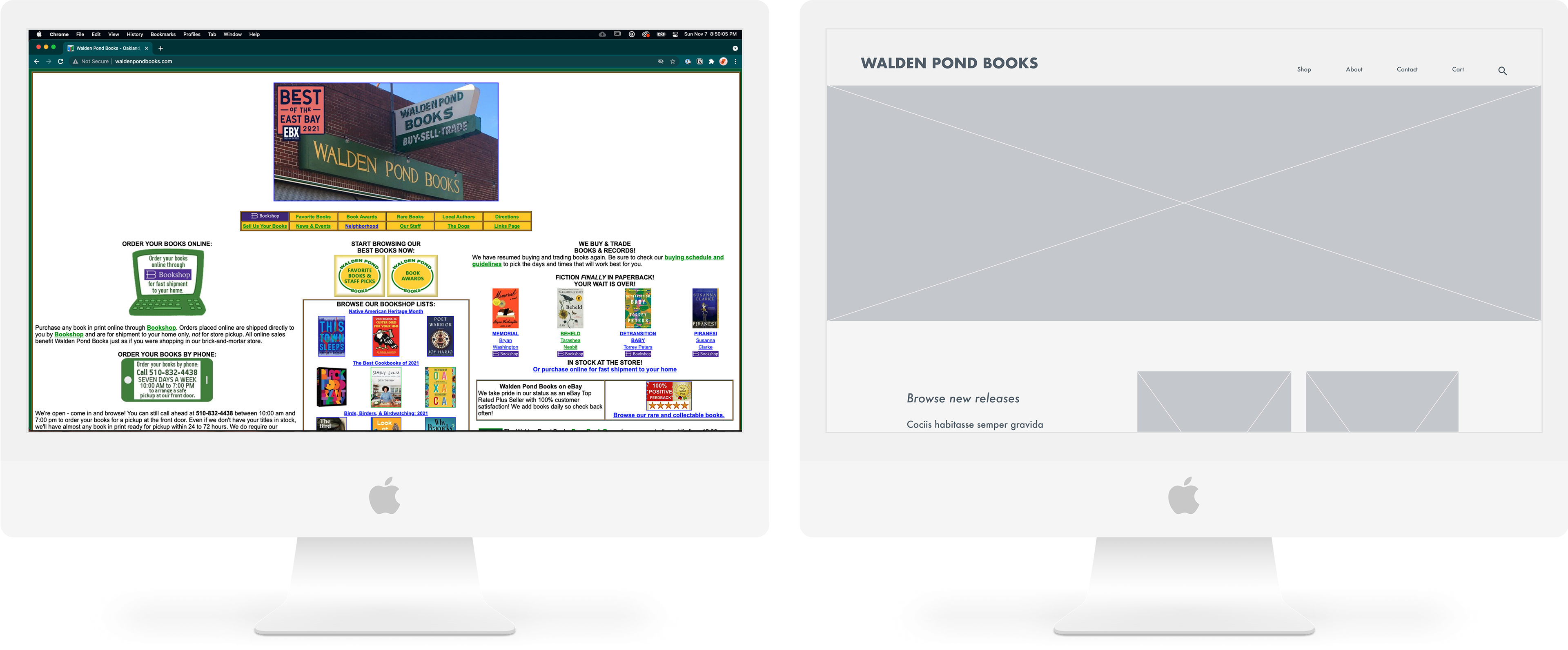 Research
Site Audit
Between the sheer volume of books, copy, CTA buttons and links I had a really hard time figuring out where my eye should land in the long run. I quickly browsed other tabs and found the same issue: as interesting as everything was I was inundated with walls of copy that I ended up just lightly skimming and clicking away. This is a huge problem when it comes to converting views to a purchase.
Confusing Information Architecture
The global navigation that we're faced with off the bat is a mixture of a third-party platform to purchase their books, different tabs to browse said books, local authors, and "The Dogs" among other things. As much as I love animals, if I can easily find the employee pet page quicker than I can find a book that I want, that's probably something that should be reconsidered.
Disconnected Purchasing Platform
Clicking through flow, it brings you to a third-party platform which is not only disruptive to the user experience but Walden Pond Books could potentially lose out on revenue because you're quite literally being directed away from the business's page that you're trying to support. While
Bookshop.org
is well-intentioned, one can a purchase a book from them without even selecting a specific bookstore to support.
Having been to their brick and mortar and instantly feeling a sense of wonder, curiosity, and an urge to purchase as much as I can physically carry, the website gives off a very different vibe. It's time to align the two more closely.
Card Sort
To better understand how users expected to navigate the current site, I recruited some participants for a closed card sort. Between this and a comparative study of other location businesses, this information was pertinent to the re-vamp of the site map, as shown below.


User Research
My high-level goal was to get better insight into people's purchasing and reading habits, so I formulated questions for my user interviews and surveys. From that I synthesized the data into an affinity map, key insight in this stage included:

Define
User Persona
The synthesized data from my user interviews helped flesh out my user persona: Jessica. This information would help to formulate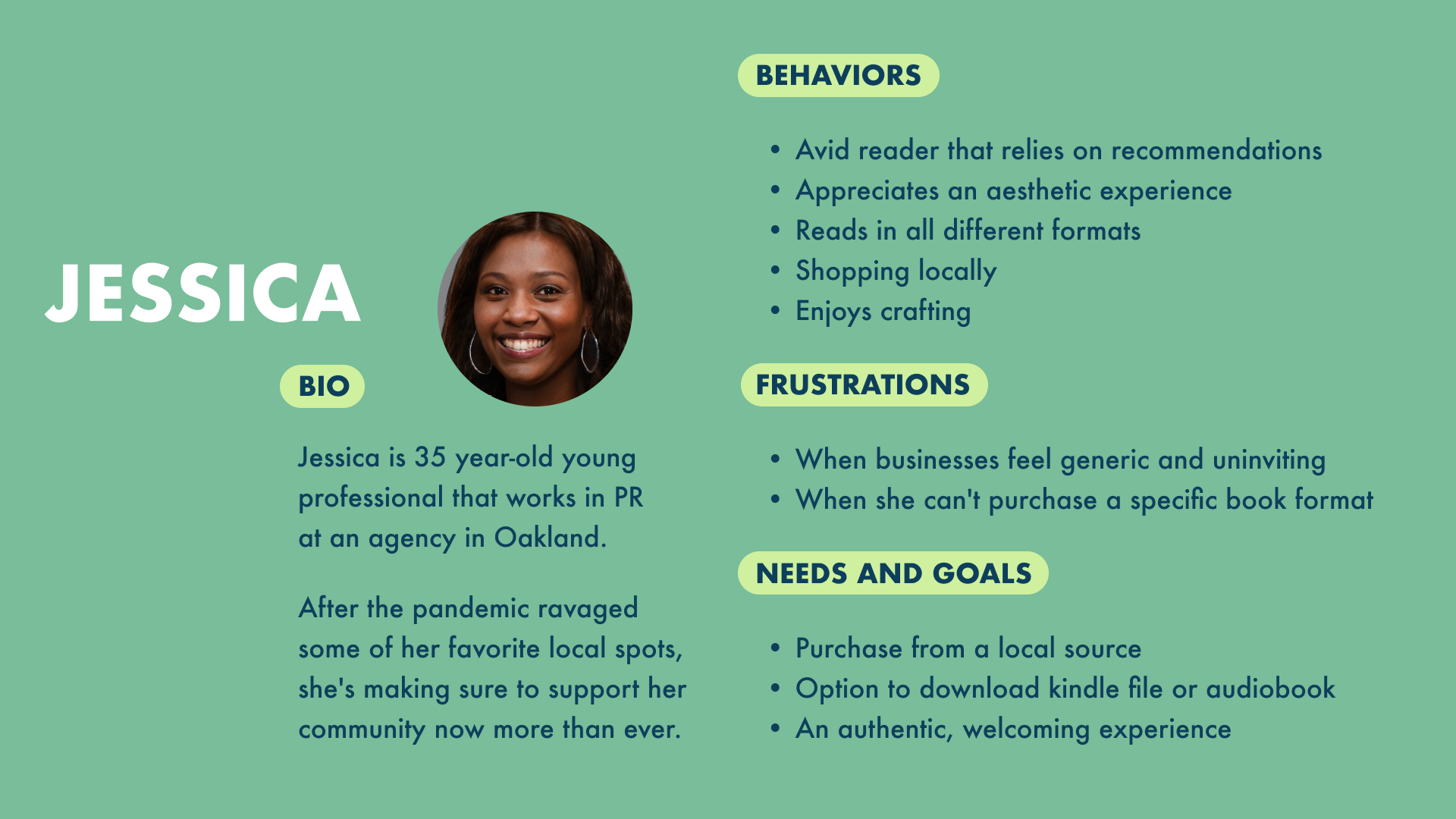 Ideate
Based on the ideation sessions, I implemented two features into my mid-fidelity prototype that participants found important: a book-rating system that was upfront and a filter that included well-known book lists. 100% of the participants were able to apply a filter, find a book in a format that worked for them, and complete their checkout process in under 3 minutes. Feel free to poke around in the mid-fi below!
Next Steps & Reflections
As a budding UX/UI designer, there's a lot that I still needed to learn while I was working on this project. The biggest takeaway was: be careful of the dreaded MeX. I made some bold assumptions early on in this and swiftly learned to recalibrate when veering too far off course. 
Coming from a branding and design background, I did feel very much at home in the visual side of this and look forward to fleshing out a well-thought-out UI that would serve as the proverbial cherry on this ice cream sundae—or rather, the highly anticipated new book smell.